Environmental Zones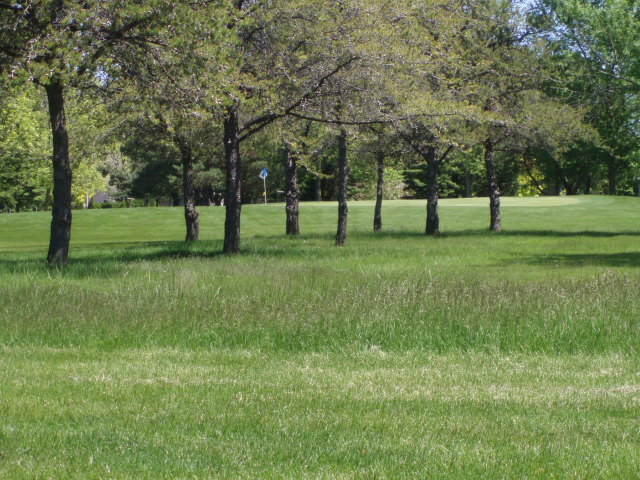 As part of our on-going efforts to make improvements to the course we implemented Environmental Zones throughout the course in 2012. These zones, also referred to as "waste areas" or "no-mow/spray", are placed primarily in out-of-play areas of the course and along boundaries. The purpose of these areas is multi-faceted, with the primary focus on creating a natural eco-system that promotes increased wildlife habitats and decreases potential additives to the environment. This is achieved by reducing unnecessary chemical applications (fungicides and pesticides) to these areas. These designated zones will be allowed to grow naturally throughout the season and as they mature will include a variety of bird and butterfly houses, along with signage designating these areas as environmental zones.
In all approximately 6 acres of turf has been converted into these environmental zones.  These include areas along the outside of dog-legs, between greens and tees (with a designated path mowed for travel), areas adjacent to tee boxes, and along some of the property lines. By reducing the amount of area needed to be maintained it allows us to save on labor costs, equipment usage, fuel consumption (and emissions into the ozone), and direct use of fungicides and pesticides.  By reducing chemical additives to the turf there is a decreased chance of potential contamination into the surface and groundwater supplies. These reductions not only save on operating costs but promote a healthier environment for everyone.
Another benefit of incorporating these areas into the course is the ability to attract more wildlife.  The addition of a variety of birds, which feed on insects, will help decrease insect populations of mosquitoes, house flies, bees, and spiders- without having to spray chemical solutions into the eco-system.
These changes will allow us to re-allocate our resources to other aspects of course maintenance and additions to improve the over-all quality of not only the course, but the environment around us.
Here is a short video by the USGA on maintaining environmental zones and their benefits:
We hope you join us in enjoying the natural beauty around us while making your way around the course.
CALL NOW to book your tee time! 233-4640
Oshkosh Golf Course, Golf League, Golf Outings, Daily fee golf, youth golf, golf rates, golf Oshkosh